Discussing Professor Mark Harvey's new book, Climate Emergency (2021)
 By Katy Wheeler (Co-convenor of BSA Climate Change Group, University of Essex)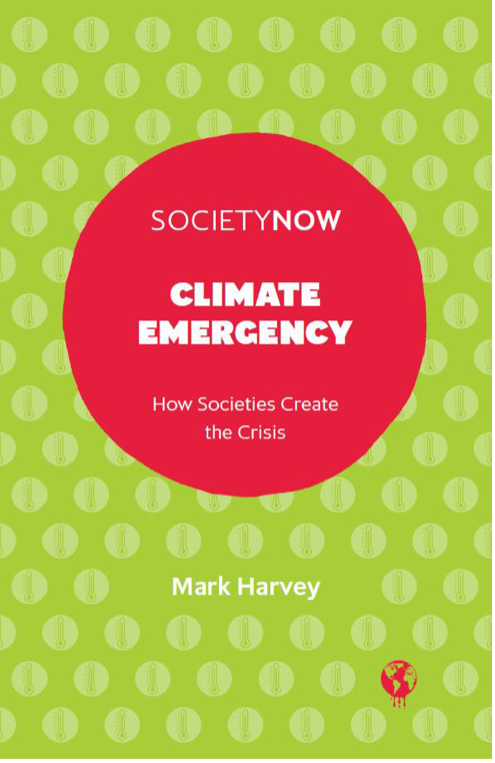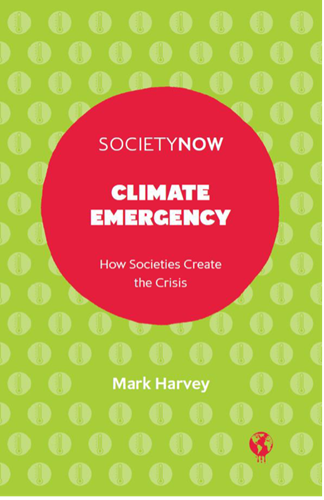 On 1st November, the BSA Climate Change Group co-hosted a webinar with Essex's Centre for Research in Economic Sociology and Innovation (CRESI) to discuss Professor Mark Harvey's new book, Climate Emergency: How Societies Create the Crisis (2021). The conversation was chaired by Professor Linsey McGoey and featured Professor Jeremy Krikler, Professor Nigel South and Dr Katy Wheeler
The book represents the joining together of Harvey's neo-Polanyian framework with an urgent call for sociology to pay proper attention to the environment within their accounts of societal change and transformation. Harvey's central concept of 'sociogenesis' represents a challenge to anthropogenic accounts of climate change which assume a uniform impact of societies on the environment and instead argues for a recognition of how different societies interact with their unique resource environment (land, sun, energy) within distinct political economies. These resource environments drive connections between different places across the globe (for example China's lack of agricultural land connects them to Brazil whose abundance of sun and land provide the resources for crops to grow) and so generate varied carbon footprints and unequal responsibilities for climate change between economies.
The book is ambitious in scope and scale, moving us from the very local 'choice' to consume meat to international trade relations of animal and plant agriculture between countries which produce and distribute food within this system. The historical and contemporary comparative lens shows us why a social scientific perspective is essential to understand the true scope and complexity of the climate emergency. The book argues that the externalisation of environment from the economy can no longer continue and the careful analysis in this book highlights the ineffectiveness of viewing carbon emissions through a national scale – globalisation connects us through dynamic cycles of production distribution, exchange and consumption which reproduce and perpetuate historical inequalities.
Professor Krikler praised Harvey's attention to the historical legacy of North American and European contributions to the climate catastrophe though he argued that there is no way out of the climate catastrophe unless decisions are also taken in Asia. Harvey's book pays close attention to inequalities between and within countries and highlighted that on a per capita basis Chinese and Indian consumers have a much lower CO2 footprint than their North American counterparts. Professor Krikler questions what this means for inequalities within countries and how consumers in countries with high levels of inequality should be consuming in the future if current consumption levels signal poverty. He ended his discussion with a more hopeful reflection on the important role that activists, scientists and moral critique have played in moving economies and nations to take action.
Professor Nigel South's discussion focused on two key issues – climate justice and the role for Indigenous peoples. Whilst recognising that Harvey's book calls for a 'just transition', South questions how this might be possible in practice. He drew attention to the McGoey's idea of 'strategic ignorance' to highlight how there is increasing awareness of and anxiety about climate change but still resistance to proposals that would affect quality of life. Second, South highlighted how the impacts of climate change and responsibility for causes are massively differentiated and unequal, yet Harvey's book does not include one population that is least responsible for climate change – Indigenous peoples. Though Harvey does show British colonisation of slave plantations in the Caribbean and Indian Ocean and the settler colonialism of North America are crucial points in the sociogenesis of environmental and climate changes. Indigenous communities must be recognised in climate change agreements – principally in terms of how they are affected by climate change, giving them the recognition as actors in strategies and efforts to combat climate change. South gave the example of the Yasuní 'No Go Zone' project 2007-2013 and argued that the voice and interests of Indigenous peoples are central to consideration of one strategy for future sustainability.
Dr Katy Wheeler welcomed Harvey's argument that consumers are embedded within their energy-dependent practices and are locked into particular energy-demand configurations. For too long, individual behaviour change has been at the heart of policy discussion around sustainability transitions, coupled with technological innovation. But she raised the question of what role consumers or citizens should be playing within climate change debates and actions. At times Harvey's wide angled lens meant it was difficult to imagine how we as individuals can and should make a difference. So often when talking to people who are faced with environmental destruction, there is a real desire to do something and moral imperative to act. Participation in recycling schemes or eco-labelling are understood by many as a way of making a difference. Whilst we might question the effectiveness of such actions, the political potential such commitment represents should not be dismissed. She asked how a sociogenic perspective can be harnessed to engage and educate consumers as citizens and what sorts of political mobilisation might result from this.
This provocative book provided a platform for a lively and varied discussion and can be viewed in full in the video below. Mark's book is available via Emerald Publishing and other online retailers. There is a 50% reduction on the book for the Black Friday sales, available here.