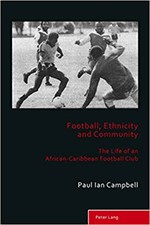 This month we have one of the PAM Prize winners' books to giveaway and it is Paul Ian Campbell's  Football, Ethnicity and Community: The Life of an African-Caribbean Football Club.
This book is a case study of an African-Caribbean-founded football club, Meadebrook Cavaliers, from the English East Midlands. Covering the years 1970 to 2010, it seeks to address the paucity of research on the British African-Caribbean male experience in leisure and sport as well as on the relationship between «race» and local-level football. The development of the club was intimately connected to wider changes in the social and sporting terrain. Based on a mix of archival and ethnographic research, the book examines the club's growth over four decades, exploring the attitudes, social realities and identity politics of its African-Caribbean membership and the varying demands and expectations of the wider black community. In doing so, it shows how studies of minority ethnic and local football clubs can shed light on the changing social identities and cultural dynamics of the communities that constitute them.
If you are interested in receiving one of these free copies, please email the BSA with your name and postal address and we will pick five winners at random. Please note that you must be a BSA member to enter this book draw. If you aren't a member and would like to find out how to become one and see what other benefits are available to you please visit the Membership section.
The five winners of Stuart Hall's Selected Political Writings: The Great Moving Right Show and other essays were Ken Browne, Alan Mackie, Claire Maxwell, Stuart Thompson and Matthew Waites. Congratulations to you all.