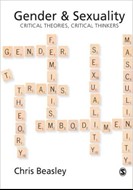 The book contextualizes a wide range of feminist perspectives, including: modernist, liberal, postmodern, queer and gender difference feminism; and in the realm of sexuality studies covers modernist liberationism, social constructionism, transgender theorising and queer theory. In men's studies, Chris Beasley examines areas of debate ranging from gender and masculinity to questions of race, ethnicity, imperialism and gay masculinities. Interconnections between the subfields are highlighted, and Beasley considers the implications of body theory for all three.
If you are interested in receiving one of these free copies, please email the BSA with your name and postal address and we will pick five winners at random in March. Please note that you must be a BSA member to enter this book draw. If you aren't a member and would like to find out how to become one and see what other benefits are available to you please visit the Membership section.
The five winners of Zygman Bauman's Retrotopia in January were John Bateson, Tess Baxter, Fiona Mottershaw, Judith Wester and Ros Williams. Congratulations to you all.