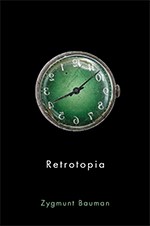 Following the passing of  Zygmunt Bauman we have five free copies of his latest book Retrotopia to giveaway.
We have long since lost our faith in the idea that human beings could achieve human happiness in some future ideal state – a state that Thomas More, writing five centuries ago, tied to a topos, a fixed place, a land, an island, a sovereign state under a wise and benevolent ruler. But while we have lost our faith in utopias of all hues, the human aspiration that made this vision so compelling has not died. Instead it is re-emerging today as a vision focused not on the future but on the past, not on a future-to-be-created but on an abandoned and undead past that we could call retrotopia.
If you are interested in receiving one of these free copies, please email the BSA with your name and postal address and we will pick five winners at random in February. Please note that you must be a BSA member to enter this book draw. If you aren't a member and would like to find out how to become one and see what other benefits are available to you please visit the Membership section.
The five winners of Emma A Jane Misogny Online in November were Helen Bowes-Catton, Lee Chalmers, Wendy Martin, Alexandra Turner and Xanthe Whittaker. Congratulations to you all.