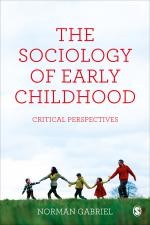 This month we have five copies of The Sociology of Early Childhood: Critical Perspectives by Norman Gabriel to giveaway to our members.
The Sociology of Early Childhood is a theoretically and historically grounded examination of young children's experiences in contemporary society.
Arguing that a sociology of early childhood must bring together and integrate different disciplines, this book synthesises different sociological perspectives on childhood as well as incorporating multi-disciplinary research findings on the lives of young children. It also explains key theoretical concepts in early childhood studies such as investment, early intervention, professional power and discourse.
The book examines the importance of play, memory and place, as well as evaluating long term parenting trends. Finally, it uses illustrative examples and case studies, discussion questions and annotated further reading to engage and stimulate readers.
Invigorating and thought provoking, this is an invaluable read for advanced undergraduates and postgraduate students looking for a more nuanced and progressive understanding of childhood. 
If you are interested in receiving one of these free copies, please email Claire Simmons with your name and postal address and we will pick five winners at random in June. Please note that you must be a BSA member to enter this book draw. If you aren't a member and would like to find out how to become one and see what other benefits are available to you please visit the Membership section.
The five winners of last month's free giveaway, The New Sociology of Scotland by David McCrone, were Chris Bunn, Laura Charlton, Isabel Fletcher, Ruth Hart and Melanie Lovatt. Congratulations to you all.