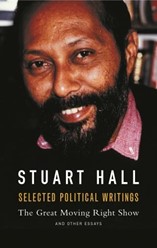 In one sense, of course, all of Stuart Hall's writing was political, but this collection focuses on the essays he wrote throughout his life that directly engaged with political issues. From the beginning, his analyses focused strongly on the central role of culture in politics, and his insights are evident across the whole selection, whether he is writing about Thatcher's authoritarianism or the double shuffles of Tony Blair.
These essays come from three broad periods: the 1950s and 1960s, when Hall was involved in the New Left; the 1970s and 1980s, when he evolved his critique of Thatcherism; and from the 1990s until the end of his life, when he focused on the emergence of neoliberalism.
If you are interested in receiving one of these free copies, please email the BSA with your name and postal address and we will pick five winners at random in April. Please note that you must be a BSA member to enter this book draw. If you aren't a member and would like to find out how to become one and see what other benefits are available to you please visit the Membership section.
The five winners of Chris Beasley's Gender and Sexuality in February were. Duncan Fisher, Andrew Fugard, Amarpreet Kaur, Kirsty Loman and Vicki Robinson. Congratulations to you all.