By Stacey Pope, School of Applied Social Sciences, Durham University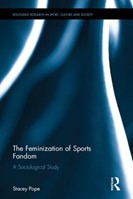 Watching professional sport is important for women for so many reasons, but their expectations and experiences have been largely ignored in sociological work to date. Most studies focus exclusively on male football fans and are typically focused upon male hooligan cultures and/or issues of fan rivalry. This book therefore breaks new ground by tackling these shortcomings in the literature and addressing the dearth of research on female sports fans. It examines the extent to which, and how, sports fandom figures in the leisure lives of women in football and rugby union, but also explores women's journeys into their fandom and how they negotiate their place in this male domain. In doing so, it incorporates new understanding of women's experiences as sports fans into the existing research on women and leisure and brings women's leisure experiences as sports spectators to the fore.
Strikingly, there is very little sociological work which compares the experiences of male or female sports fans in different sports. The findings offer original research on female fans of two sports (men's football and rugby union) in the UK city of Leicester, drawing on in-depth interviews with 85 women. The focus on female fans of football and rugby union in one locale offers a highly innovative approach to the study of sports fandom. This enabled an analysis of women's experiences as fans of two traditionally 'male' sports which have very different histories, cultural traditions and social class bases. The analysis is also framed in generational terms by comparing the attitudes and experiences of three generations while also exploring how some women's sport and leisure patterns have changed over time. Drawing upon feminist thinking and intersectionality, it shows how women from different social classes and age groups consume the spectacle of sport.
The book makes a number of important theoretical and empirical contributions. It is the first focus on the phenomenon of the feminization of sports fandom. The author argues that in contemporary society there have been increasing opportunities for women to become involved in sport as fans, suggesting that in the UK this process first began in the 1990s. She theorises that this can be attributed to major transformations that have occurred in women's lives and in professional sport. The empirical chapters examine continuity and change in the lives of female sports fans; women, sport and a sense of place; rivalry and class distinction between female football and rugby union fans; and the meaning and importance of sport for female fans. The findings show the diversity of women's experiences and attachments to sport.
Sociological analysis is located at the heart of the book but the research is interdisciplinary and will also be of interest to those working in the fields of gender studies, sport and leisure studies, popular culture and regional studies.  
The book is being published by Routledge in May 2017. Find out more>