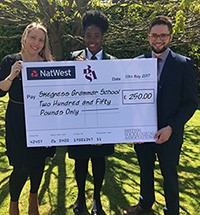 Gabrielle Stapleton, of Skegness Grammar School, has been announced as the winner of the 2016 BSA National A Level Sociology Competition.
At 18 years old, Gabrielle, chose to answer the question posed based on religion.  She said religion was her chosen topic as she had not yet covered the module, and wanted to broaden her knowledge before she was taught it with her class.
She wins an iPad mini for herself and £250 for her school's sociology department. Mr Wardell, the sociology teacher at Skegness Grammar School, said "Gabrielle is a very dedicated student and has made us very proud of what she has accomplished".
The BSA National A Level Sociology Competition is held annually, with most entries coming from British schools. This year the entrants were asked to answer the question 'what are the causes of social consensus and conflict in society today?'.  This was to be presented in a 2,000-word written piece, or a 10-minute podcast or video clip.
Gabrielle is about to start her A Levels and hopes to go on to study Sociology and Criminology at the University of Nottingham, starting September 2017.
Well done Gabrielle and good luck in your exams.