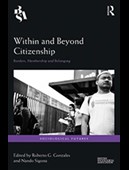 This month we have five copies of Within and Beyond Citizenship Edited by Roberto G. Gonzales and Nando Sigona - to giveaway to our members.
Within and Beyond Citizenship brings together cutting-edge research in sociology and social anthropology on the relationship between immigration status, rights and belonging in contemporary societies of immigration. It offers new insights into the ways in which political membership is experienced, spatially and bureaucratically constructed, and actively negotiated and contested in the everyday lives of citizens and non-citizens. Themes, concepts and ideas covered include:
The shifting position of the non-citizen in contemporary immigration societies;
The intersection of human mobility, immigration control and articulations of citizenship;
Activism and everyday practices of membership and belonging;
Tension in policy and practice between coexisting traditions and regimes of rights;
Mixed status families, belonging and citizenship;
The ways in which immigration status (or its absence) intersects with social cleavages such as age, class, gender and 'race' to shape social relations.
This book will appeal to academics and practitioners working in the disciplines of Social and Political Anthropology, Sociology, Social Policy, Human Geography, Political Sciences, Citizenship Studies and Migration Studies.
If you are interested in receiving one of these free copies, please email Claire Simmons with your name and postal address and we will pick five winners at random. Please note that you must be a BSA member to enter this book draw. If you aren't a member and would like to find out how to become one and see what other benefits are available to you please visit the Membership section.
The five winners of last month's free giveaway, Power, Knowledge and Feminist Scholarship: An Ethnography of Academia by Dr Maria do Mar Pereira were Julia Frost, Amy Halls, Nayia Kamenou, Dawn Llewellyn and Silke Roth. Congratulations to you all.