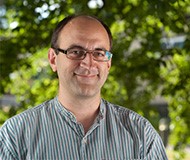 The Second BSA conference on Society, Environment and Health takes place at Cardiff University on 27 October, hosted by the Association's Environment and Health and Climate Change study groups.
The one-day event will hear empirical, theoretical and policy papers from across the multi-disciplinary areas of environment and human health, submitted to an open call by established and early career researchers and postgraduate research students.  It follows a highly successful BSA conference on the Environment and Health theme held last year at the London School of Hygiene.
Dr Ben Wheeler of the University of Exeter will deliver the keynote plenary, exploring the interactions between nature and health inequalities.  He believes current research on the 'added health value' of nature can help inform environmental and public health policies from local to global levels, and can ultimately benefit both people and the environment.
'There's a rapidly growing evidence base suggesting links between natural environments and a wide range of health outcomes, through pathways including promotion of physical activity and stress recovery.  It's clear, however, that these relationships are complex, and research requires a very broad approach across a range of social, natural and health sciences.' 
Dr Wheeler is a member of the interdisciplinary research team within the European Centre for Environment and Human Health at the University of Exeter, and works closely with local authorities, national government and the World Health Organisation to deepen understanding of relationships between nature, health and wellbeing. 
These interactions have been a focus within Ben Wheeler's research for over ten years. 
'Ever since my doctoral studies I've been concerned with links between socio-spatial health inequalities and physical environmental conditions.  It seems that living in places with high quality natural environments may provide a degree of resilience against the health-damaging effects of socio-economic deprivation. If this is the case, environmental improvement and protection could be disproportionately beneficial in poorer neighbourhoods, and may be part of the solution in tackling intractable health inequalities.'
More information on the work of Ben Wheeler and his co-researchers may be found on the team's Greenspace blog.
The conference will hear from eight other speakers on the day, with topics ranging from the effects of meat consumption on the environment to the impact of UK waterways on well-being.  Other speakers will look at research from as far afield as Vietnam and Canada.
Co-organiser Nick Fox said 'We had a fantastic response to our call for papers for this event, and we are in for a fascinating day.  It shows both the depth and breadth of current sociological research on environment and health.'
Registration for the conference is still open, and places may be booked online, costing £25 for BSA Members and £15 for concessionary members and full-time students, to include lunch and refreshments.  A full programme for the event may be found on the event webpage.