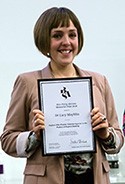 A book on asylum seekers has won this year's prestigious Philip Abrams Memorial Prize for the best first-authored sociology work.
Asylum after Empire: Colonial Legacies in the Politics of Asylum Seeking (Rowman & Littlefield), by Dr Lucy Mayblin, of the University of Warwick, wins £1,000 as part of the prize, which is run by the British Sociological Association.
The award is for the best first and sole-authored book within sociology and was established in honour of the memory of Professor Philip Abrams, whose work contributed substantially to sociology and social policy research in Britain.
The prize was presented to Dr Mayblin by the BSA President, Professor Susan Halford, at the BSA's annual conference at Northumbria University in Newcastle on Wednesday 11 April 2018.
Professor Halford said the winning book made it clear that the UK's policy on asylum seekers could only be understood in the light of the country's colonial history.
"It is remarkably sophisticated piece of theoretical work, a thorough piece of empirical analysis, and has huge practical relevance – it is a powerful demonstration of what scholarly sociological work can do and how it can contribute to how sociologists inform important and contentious public debate – we are quite sure this will become a classic of British sociology."
The book highlights the fact that since the early 1990s the majority of asylum seekers have originated from countries outside of Europe which have been under colonial rule.
The book was selected from a shortlist of four. The other three were: Theism and Atheism in a Post Secular Age, by Morteza Hashemi; Factories for Learning: Making Race, Class and Inequality in the Neoliberal Academy, by Christy Kulz; and Changing Names and Gendering Identity: Social Organisation in Contemporary Britain, by Rachel Thwaites.
For more information, please contact: 
Tony Trueman
British Sociological Association
Tel: 07964 023392 
tony.trueman@britsoc.org.uk
Notes:
1. The British Sociological Association's annual conference takes place at Northumbria University, Newcastle, from 10 to 12 April 2018. Over 700 research presentations are given. The British Sociological Association's charitable aim is to promote sociology. The BSA is a Company Limited by Guarantee. Registered in England and Wales. Company Number: 3890729. Registered Charity Number 1080235 www.britsoc.co.uk