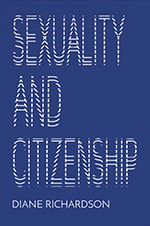 This month we have five copies of Sexuality and Citizenship by Diane Richardson – ready to giveaway. 
Sexual citizenship has become a key concept in the social sciences. It describes the rights and responsibilities of citizens in sexual and intimate life, including debates over equal marriage and women's human rights, as well as shaping thinking about citizenship more generally. But what does it mean in a continually changing political landscape of gender and sexuality?
In this timely intervention, Diane Richardson examines the normative underpinnings and varied critiques of sexual citizenship, asking what they mean for its future conceptual and empirical development, as well as for political activism. Clearly written, the book shows how the field of sexuality and citizenship connects to a range of important areas of debate including understandings of nationalism, identity, neoliberalism, equality, governmentality, individualization, colonialism, human rights, globalization and economic justice.
 Ultimately this book calls for a critical rethink of sexual citizenship. Illustrating her argument with examples drawn from across the globe, Richardson contends that this is essential if scholars want to understand the sexual politics that made the field of sexuality and citizenship studies what it is today, and to enable future analyses of the sexual inequalities that continue to mark the global order.
If you are interested in receiving one of these free copies, please email BSA Membership with your name and postal address and we will pick five winners at random in May. Please note that you must be a BSA member to enter this book draw. If you aren't a member and would like to find out how to become one and see what other benefits are available to you, please visit the Membership section on the BSA website.
Thank you to everyone that entered last month's free giveaway of The SAGE Handbook of Neoliberalism, edited by Damien Cahill, Melinda Cooper, Martijn Konings and David Primrose.  We are pleased to announce that the five winners were Baris Cagirkan, Rampaul Chamba, Julie Ellis, Tom O'Brien and Maria Zubair. Congratulations to you all.