By June Purvis, Emeritus Professor of Women's & Gender History, University of Portsmouth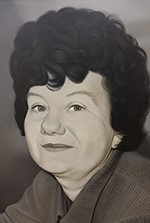 Earlier this year, I was asked by the University of Leicester if I would unveil a portrait of Olive Banks (left), on the 5th March.  I was only too pleased to do since Olive is one of the unsung pioneers of women's history.   She was appointed Professor of Sociology at Leicester in 1993, the first woman to hold such a post at that university.
Olive and I had much in common.  In the 1980's, we were both in the discipline of Sociology but interested in women's history, particularly the history of First Wave Feminism.   Whereas Olive stayed in Sociology, until she retired in 1982, I moved from Sociology into History, mainly because of the greater relevance of my publications for the Research Assessment Exercise.  Olive and I both felt we were square pegs in round holes – and we knew it.
It was in 1980 that I began a correspondence with her, a contact that we kept up intermittently until her death.  In 1980 I was a full-time mature PhD student, on an ESRC studentship, at the Open University.   Olive was working at the time on the final stages on her book Faces of Feminism, a comparative study of feminism in Britain and the USA from the early nineteenth century to the late 1970's.  She wrote to me saying how she was exhausted with all the complications of seeing the manuscript through the press, especially proof reading and indexing, but had thoroughly enjoyed the writing of the book.  'Publishers do seem interested in studies of women', she commented.   And she was right.  Faces of Feminism, published in 1981, was a resounding success since it hit the market at a time when many women academics were embracing Second Wave Feminism and Women's Studies courses were being established in higher and adult education.  The following year, when financial cuts were imposed in higher education, Olive took early retirement.
Retirement brought Olive the freedom to research and write on the subject close to her heart, the history of feminism.  Always very competent at synthesising material, she published The Biographical Dictionary of British Feminists, in two volumes (1985 and 1990), which quickly became important reference texts.  Two more books followed – Becoming a Feminist: the Social Origins of 'Firsts Wave' Feminism (1986), which pioneered collective biography as an approach to the subject, and The Politics of British Feminism, 1918-1970.  The latter, published in 1993, was to be her last book.  When Sandra Holton and I co-edited a book on Votes for Women in 2000, we dedicated it to Olive.
By this time, I had founded a journal called Women's History Review and in 1999 I asked Olive to write her life story for me.  It was very revealing.  She wrote of her working-class background which was entirely lacking in those aspects of cultural capital considered necessary for academic success.  She had left school at 16 and worked as a clerk before marrying in 1944 Joe Banks, a young working-class man.  Both Olive and Joe were able and ambitious, and through hard work and commitment entered the London School of Economics to read Sociology.  Both stayed on for postgraduate work.  
Olive's PhD thesis, completed in 1953, was turned into a well-received book Parity and Prestige in English Secondary Education: a Study in Educational Sociology (1955).  Despite this success, Olive encountered a lot of sexism when she tried to find a university post.  One man even said to her that as a married woman it was a mistake to try for a career, and that her happiness would come from home and children. Eventually in 1954, she was offered a temporary research post in the Sociology and Social Work Department at the University of Liverpool, where Joe had been appointed a senior researcher.
During the 1960's Olive wrote an important text book The Sociology of Education, and it was on the basis of her outstanding reputation in this field that she was promoted to a Readership in Sociology and then a Professorship at the University of Leicester.  Her time there was not happy.  She found the 'strongly male-dominated department', as she termed it, demoralising.  She also felt trapped by her reputation in the sociology of education, a field in which she now had no abiding interest.  As noted earlier, retirement – she was still the only female professor at Leicester - gave her the opportunity to research subjects of keen interest.
Olive had been an equal rights feminist all her life.  When a 15 year-old pupil at  the local grammar school, she was shocked at the arguments advanced by the boys in a debate on the theme 'A Woman's Place is in the Home'.  The prejudice expressed in that debate was re-enforced a few month later when she learnt that a job she wanted in public library was not open to girl applicants.  'From that day', she wrote, 'my feminist commitment has never wavered.'
In later life, Olive and Joe left their home at Husband's Bosworth, near Leicester, and moved to Buxton, Derbyshire where they would spend more time on their favourite leisure pursuits, including the opera.  Olive did not enjoy increasing old age.  Her hearing began to fail and arthritis in her knees made gardening difficult.  When Joe died she was heartbroken.  They had been a devoted couple – often holding hands at BSA conferences – and shared academic interests.  Joe had always supported Olive's academic ambitions, refusing to take a Chair unless Olive was offered an academic post too.
Today, Olive Banks is remembered for the contribution she made to the development of the sociology of education but especially her pioneering contribution to the history of feminism.  She overcame the disadvantages of her class and gender to become a leading international scholar, despite the sexism women academics faced in the workplace.  She would have loved all the events taking place this year to commemorate the centenary of the granting of the parliamentary vote to certain categories of women.  But her work lives on.