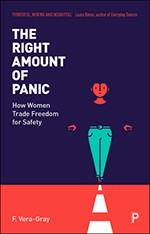 This month we have five copies of The Right Amount of Panic: How Women Trade Freedom for Safety by F. Vera-Gray to giveaway, published and provided by Policy Press.  F. Vera-Gray is a Leverhulme Early Career Fellow in the Department of Law at Durham University.
Have you ever thought about how much energy goes into avoiding sexual violence? The work that goes into feeling safe goes largely unnoticed by the women doing it and by the wider world, and yet women and girls are the first to be blamed the inevitable times when it fails.
We need to change the story on rape prevention and 'well-meaning' safety advice, because this makes it harder for women and girls to speak out, and hides the amount of work they are already doing trying to decipher 'the right amount of panic'. With real-life accounts of women's experiences, and based on the author's original research on the impact of sexual harassment in public, this book challenges victim-blaming and highlights the need to show women as capable, powerful and skilful in their everyday resistance to harassment and sexual violence.
If you are interested in receiving one of these free copies, please email BSA Membership with your name and postal address and we will pick five winners at random on 17 December 2018. Please note that you must be a BSA member to enter this book draw. If you aren't a member and would like to find out how to become one and see what other benefits are available to you, please visit the Membership section on the BSA website.
Thank you to everyone that entered last month's free giveaway for White privilege - The myth of a post-racial society by Kalwant Bhopal. We had a great amount of interest in the book and are pleased to announce that the five winners were David James, Monique Charles, Liz Brosnan, Maria Zubair and Ken Browne and they have all been notified. Congratulations to you all.