By Richard Waller, Nicola Ingram and Michael R.M. Ward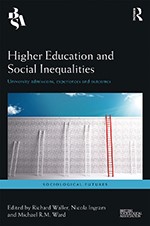 Higher Education and Social Inequalities: University admissions, experiences and outcomes is the latest publication in the highly successful Sociological Futures series, a joint publishing venture between the BSA and Routledge. The book is co-edited by the previous convenor of the BSA's Education Study Group Richard Waller (UWE, Bristol), along with the current convenors, Nicola Ingram (Lancaster) and Mike Ward (Swansea), and it arose from presentations in the education stream of the annual conference, as well as education study group events.
The book features a dozen original chapters from researchers at a range of career stages including PhD students, mid-career academics and some of the leading researchers in the sociology of education e.g. Diane Reay, Vikki Boliver and Paul Wakeling, and other senior figures of British sociology such as Geoff Payne and Harriet Bradley. The book also incorporates a concluding chapter from David James, Executive Editor of the leading journal in the discipline, the British Journal of Sociology of Education, and the recently appointed Chair of the Education Unit of Assessment REF 2021 sub-panel. In this contribution David draws out lessons for HE practitioners and policy makers from the work in the book, and offers suggestions for possible future research directions for scholars of higher education in what he proposes is 'an increasingly marketised university sector'.
The book is divided into three distinct parts to mirror the discrete phases of the undergraduate student life cycle – Getting in: Higher education access and participation; Getting on: Classed experiences of higher education and Getting out: Social class and graduate destinations. In doing so it draws upon an approach first used by Phil Brown in his 1987 monograph Schooling Ordinary Kids, and subsequently used by various other authors including Haselgrove (1994) in her edited collection The Student Experience, and most recently the Bathmaker et al. (2016) book from the Paired Peers project exploring the impact of social class backgrounds on university experiences and outcomes. (Interestingly, Phil Brown is a co-author of a chapter in this new collection, and there's also a chapter by Bradley and Waller from the Paired Peers project too).  
Each of the sections contains four chapters, and there is short scene-setting introduction from the editors explaining the rationale behind the structure of the collection, and offering an overview of each chapter's content. The introduction also offers a background to recent policies impacting on issues covered in the book, how these interact with wider notions of social mobility and social justice, and the contribution higher education can make to these notoriously slippery and politically contentious concepts. It is no longer sufficient to simply seek an increase in the number of university places as we witnessed during the expansion of HE under New labour – as welcome as that was – i.e. putting 'more bums on seats' in higher education, since this has led to a further differentiation of the sector, arguably exacerbating social inequalities between graduates of different status universities, as the acclaimed Savage et al. (2015) analysis of class in contemporary Britain revealed. What we must do, as this new collection highlights, is talk about who enjoys access to which university in light of the very different experiences and outcomes faced by students and graduates respectively. The real question for the sociology of higher education in this regard is thus 'whose bum on which seat?'.  
The book is being officially launched at April's annual conference, with a symposium session 11.00-12.30 on Wednesday 11th in the education stream (room 223b). The session will be convened by one of the collection's editors, Richard Waller, and will feature presentations from three of the contributors, Matt Cheeseman (Derby) on 'How to win at being a student'; Vicky Mountford (Newcastle) on 'The 'Jack Wills Brigade': Brands, embodiment and class identities in higher education' and David James (Cardiff) on 'Social class, participation and the marketised university'. Vicky and Matt are able to appear at the event due to the generous support of the Sociological Futures series editorial team, Eileen Green, John Horne, Caroline Oliver and Louise Ryan.    
By Richard Waller, Nicola Ingram and Michael R.M. Ward, editors of Higher Education and Social Inequalities: University admissions, experiences and outcomes
References
Bathmaker, A-M., Ingram, N., Abrahams, J., Hoare, T., Waller, R. and Bradley, H. (2016) Higher education, social class and social mobility: the degree generation. London: Palgrave MacMillan
Brown, P. (1987) Schooling Ordinary Kids: Inequality, unemployment and the new vocationalism. London: Tavistock
Haselgrove, S. (1994) (Ed.) The Student Experience. Society for Research into Higher Education & Open University Press: Buckingham.
Savage, M., Cunningham, N., Devine, F., Friedman, S., Laurison, D., McKenzie, L., Miles, A., Snee, H. and Wakeling, P. (2015) Social Class in the 21st Century. London: Penguin