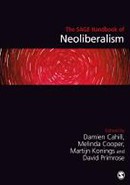 This month we have five copies of The SAGE Handbook of Neoliberalism, edited by Damien Cahill, Melinda Cooper, Martijn Konings and David Primrose – ready to giveaway.
Over the last two decades, 'neoliberalism' has emerged as a key concept within a range of social science disciplines including sociology, political science, human geography, anthropology, political economy, and cultural studies.
The SAGE Handbook of Neoliberalism showcases the cutting edge of contemporary scholarship in this field by bringing together a team of global experts. Across seven key sections, the handbook explores the different ways in which neoliberalism has been understood and the key questions about the nature of neoliberalism.
If you are interested in receiving one of these free copies, please email Claire Simmons with your name and postal address and we will pick five winners at random in April. Please note that you must be a BSA member to enter this book draw. If you aren't a member and would like to find out how to become one and see what other benefits are available to you, please visit the Membership section on the BSA website.
Thank you to everyone that entered last month's free giveaway, Prostitution - Sex Work, Policy & Politics edited by Teela Sanders, Maggie O'Neill and Jane Pitcher.  We are pleased to announce that the five winners were Kathryn Almack, Ruth Lewis, Kate Smith, Charlotte Wise and Maria Zubair. Congratulations to you all.