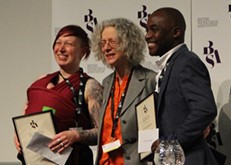 Two academics who researched self-injury and an African-Caribbean football club have won the prestigious Philip Abrams Memorial Prize for best first books in sociology. 
Dr Amy Chandler and Dr Paul Campbell share the prize of £1,000 awarded by the British Sociological Association at its annual conference at the University of Manchester today (5 April 2017).
Dr Chandler, of the University of Edinburgh, wrote Self-Injury, Medicine and Society: Authentic Bodies (publishers: Palgrave Macmillan), which examines what self-injury is and why someone might engage in it.
It has been praised by Gillian Bendelow, Professor of Sociology of Health and Medicine, University of Brighton, who said: "This is a rigorous academic overview which transcends simplistic lay/professional and body/mind divides...this book combines scholarship and real world experience."
Dr Campbell, of Coventry University, wrote Football, Ethnicity and Community: The Life of an African-Caribbean Football Club (publishers: Peter Lang), a case study of an east Midlands football club, Meadebrook Cavaliers, from 1970 to 2010. It explores the attitudes and social realities of its African-Caribbean membership, and seeks to redress the lack of research on the British African-Caribbean male experience in leisure and sport.
The BSA Philip Abrams Memorial Prize is for the best first and sole-authored book within sociology and was established in honour of the memory of Professor Philip Abrams, whose work contributed substantially to sociology and social policy research in Britain. He is remembered for the encouragement and assistance he provided to many sociologists at the start of their careers.
For more information, please contact:
Tony Trueman
British Sociological Association
Tel: 07964 023392
tony.trueman@britsoc.org.uk
Note
1. The British Sociological Association's annual conference takes place the University of Manchester from 4 to 6 April 2017. Around 700 research presentations are given. The British Sociological Association's charitable aim is to promote sociology. The BSA is a Company Limited by Guarantee. Registered in England and Wales. Company Number: 3890729. Registered Charity Number 1080235  www.britsoc.co.uk